Investor Relations
Investor Relations
TG Therapeutics is a biopharmaceutical company focused on the acquisition, development and commercialization of novel treatments for B-cell malignancies and autoimmune diseases. Currently, the company is in late stage clinical development with two investigational compounds, ublituximab and umbralisib, the combination of which is referred to as "U2", targeting hematological malignancies and autoimmune diseases. Ublituximab (TG-1101) is a glycoengineered monoclonal antibody that targets a specific and unique epitope on the CD20 antigen found on mature B-lymphocytes. Umbralisib (TGR-1202) is an oral, once-daily dual inhibitor of PI3K-delta and CK1-epsilon. Umbralisib is currently under review by the U.S. Food and Drug Administration (FDA) for accelerated approval as a treatment for patients with previously treated marginal zone lymphoma (MZL) who have received at least one prior anti-CD20 based regimen or follicular lymphoma (FL) who have received at least two prior systemic therapies. The Company also has a fully enrolled Phase 3 clinical trial evaluating U2 in patients with treatment naïve and relapsed/refractory chronic lymphocytic leukemia (CLL), and two fully enrolled identical Phase 3 trials evaluating ublituximab monotherapy in patients with relapsing forms of multiple sclerosis (RMS). Additionally, the Company has recently brought into Phase 1 clinical development its anti-PD-L1 monoclonal antibody, cosibelimab (TG-1501), its covalently-bound Bruton's Tyrosine Kinase (BTK) inhibitor, TG-1701, as well as its anti-CD47/CD19 bispecific antibody, TG-1801. TG Therapeutics is headquartered in New York City.
Currently, TG Therapeutics uses the following social media channels:
- Twitter
- LinkedIn
NASDAQ: TGTX
Change
Volume
52 Week High
52 Week Low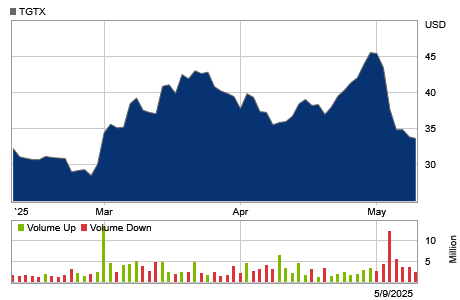 Copyright West LLC. Minimum 15 minutes delayed.