Investor Relations
Investor Relations
TG Therapeutics is a biopharmaceutical company focused on the acquisition, development and commercialization of novel treatments for B-cell malignancies and autoimmune diseases. Currently, the company is developing two therapies targeting hematological malignancies and autoimmune diseases. Ublituximab (TG-1101) is a novel, glycoengineered monoclonal antibody that targets a specific and unique epitope on the CD20 antigen found on mature B-lymphocytes. TG Therapeutics is also developing umbralisib (TGR-1202), an oral, once-daily inhibitor of PI3K-delta. Umbralisib uniquely inhibits CK1-epsilon, which may allow it to overcome certain tolerability issues associated with first generation PI3K-delta inhibitors. Both ublituximab and umbralisib, or the combination of which is referred to as "U2", are in Phase 3 clinical development for patients with hematologic malignancies, with ublituximab also in Phase 3 clinical development for Multiple Sclerosis. Additionally, the Company has recently brought its anti-PD-L1 monoclonal antibody, TG-1501, its covalently-bound Bruton's Tyrosine Kinase (BTK) inhibitor, TG-1701, as well as its anti-CD47/CD19 bispecific antibody, TG-1801, into Phase 1 development. TG Therapeutics is headquartered in New York City.
Currently, TG Therapeutics uses the following social media channels:
- Twitter
- LinkedIn
NASDAQ: TGTX
Change
Volume
52 Week High
52 Week Low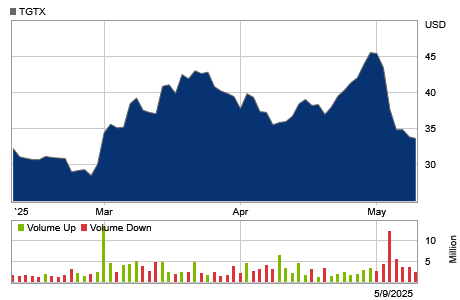 Copyright West LLC. Minimum 15 minutes delayed.